Hello Tuesday night! Today was a pretty great day. I worked all morning and afternoon and spent part of my morning on Blackberry Messenger laughing soo hard at Amber Joy and her funniness. I swear, that girl can make me laugh like no one else. I was able to text on there for awhile because my seniors were watching a film in Jenn's room. Overall great day. So after work I came home and took a long, wonderful nap with Madeline on the couch. Hank woke me up around 5:30 and we headed to dinner with his family at Bin 239. I got the a salad with spring greens, blackberries, apples, oranges, and tomatoes. It sounds weird but it was truly delicious. I came home and talked to my sweet Elisa on the phone for awhile, was headed to the gym, but decided to stay home and do my PlyoX video, which is a million times harder than any cardio machine. I am pleasantly sore and excited for these last two days of work to fly by. I am trying to figure out what I want to bring on our trip, I am a total overpacker because I like to have a million options at my disposal but at the same time I hate that I do that. Luckily we will be at Autumn's so I can wear her stuff too. I am unsure about the weather but the forecast says highs in the upper 70s and lows in the 50s. One great thing though, is that it was supposed to rain next week which totally would have put a damper (literally, haha...) on our Disneyland days. And speaking of Disney, I cannot wait to get some Minnie Mouse ears and ride all the little kid rides. I hate rides like the Tea Cups, that spin around, but I love all sorts of other rides, incuding roller coasters! Yeah! We haven't been in a very long time so it's going to feel brand new again. I managed to dig up these photos from last time we went, via my old Photobucket account! We look so young, it's precious. I think this was in 2004 or 2005.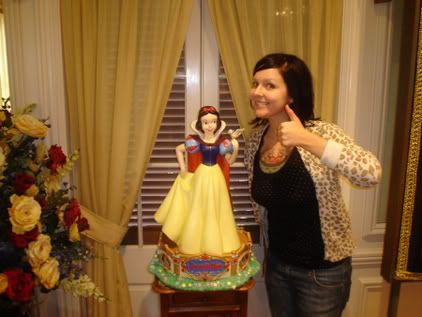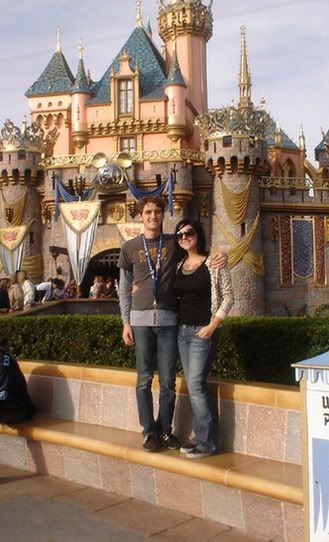 And this was from the first time I ever went to Disneyland! I went with the OHagans and Chris in 2003 or 2004 I think, the years are all mixed up to me. I grew up in NJ, so I had only known Disneyworld. This was my first CA Disney experience. All I could find was this polaroid that Elisa took but please note my awesome Alexisonfire hoodie. Ew! Hahaha.
So, what is your favorite ride at Disneyland? What are some "must-dos" that you'd recommend?