Alright, so I have to make a short post about one of my all-time favorite beauty products...Rene Futerer dry shampoo. Both my sister Lauren and Amber Joy have recommended this to me, and after putting it off for awhile, I finally bought it a few weeks ago. Because I don't like to wash my hair more than 2-3 times a week and I work out daily AND have bangs, I needed to find something that would allow me to rewear my unwashed hair without it looking dirty. My overall hair doesn't really get greasy, but my bangs definitely get piecey and a little greasy after a couple of days. So, enter this fabulous product. Not only does it fix my hair and bring it back to a "clean" state, it makes my bangs look even better. The best part about this product is that is does not flake at all, and doesn't make my dark hair look light.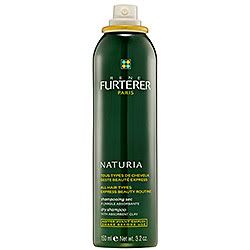 click to view product at Sephora.com
To apply it, be sure to shake it (solids settle to the bottom and need to be moved around) and simply hold it about 12 inches from your hair and spray it wherever you'd like. Let it sit and dry for about 2 minutes, pat dry with a towel, and comb through. Quick and easy.
I definitely recommend this product to anyone and everyone. I love that I can finally, happily wash my hair just two or three times a week and it still looks amazing. By not washing my hair my color lasts a lot longer and my hair is a lot healthier. Furthermore, my bangs looks awesome everyday without having to do the whole "wash in the sink" deal which can get annoying. The only "con" I have noticed is the weird smell when you first spray it, but I think that comes from the mix of essential oils used in the product (peppermint, caraway, and basil). Hank has also assured me that the smell goes away after it dries in my hair.
For some it may be a little pricey at $24, but I feel it's totally worth it. I've used it about 4x a week for 3 weeks and the can shows no signs of running out of product anytime soon.
If you decide to buy it, let me know what you think!