I am in bed right now, and I've spent almost all of my day here, being sad. This is not out of character for me, but lately it definitely is, and I hate that today has been a "low" day. Hank is playing at The Fest in Gainesville today but he still took a long time out of his day to cheer me up and make me feel better. Gosh I love him. But today was the only sad day- I had a fabulous weekend! I spent Friday with one of my wonderful and lovely best friends Sarah and we had a girly sleepover that was much needed. There's so much I can say about her...I feel just so lucky to call her my friend. We've been soul sisters for about seven years now. We had a bit of non-communicative period right around the time she met her Andy and I was getting serious with Hank, but right after my wedding we rekindled our friendship and have been back to normal ever since. Sometimes friends go through periods of time like that, and I feel fortunate that our friendship was strong enough to get through that transitional period. If you follow my blog you know that Sarah is up here all the time, hanging out with Hank and me. Hank and her know each other really well, which I love, and Madeline gets so excited whenever Auntie Suki comes to visit.
Here are some photos of us from a long time ago...I am thinking 2002? We look like little babies!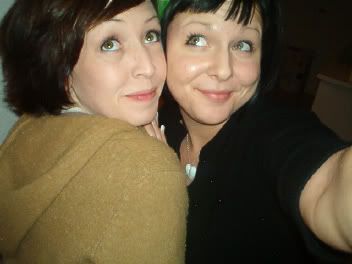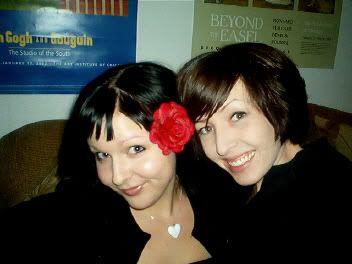 I love old photos! :) So yes, Friday was spent having a little sleepover, and then Saturday we slept in pretty late and then got back up to Prescott to start our Halloween festivities. One of my dearest friends Terra came down from Flagstaff to join us, and we all got ready and headed over to our friends' house for a little get together/"teacher" party! In our group there was a Vegas card dealer, a little Indian, a sailor and her captain, and the Lone Ranger and Silver. It was so fun! I actually wish I could wear my costume as a regular outfit! haha. Afterward we went downtown, danced our hearts out, and ended up eating the most delicious pizza at the end of our night.
This morning we slept in late and then got lunch at Subway. Once everyone left I felt like I had a "fun hangover" of sorts. I got to spend so much time with so many people I love, and now they were gone and weird depression feelings started creeping up into my mind. I absolutely hate hate hate feeling sad, and I'm already sad enough with Hank gone. I keep myself very busy though, and other than getting a little bummed at night, sleeping in our bed alone, I can usually stay pretty positive. Today though, was hard. I'm a very healthy person, but the combination of last week's Homecoming festivities and this weekend's stuff has left me drained emotionally and physically! I need to recharge my batteries this week with lots of yummy food and good exercise! Hank will be home in 13 days though and I am sooo happy. These next few months are insanely huge for us, and I am just so excited for all of it.
I hope all of you had an amazing Halloween and are enjoying your Sunday! I am determined to get out of this funk and have a beautiful Monday. I already feel a bit better having written about my sad day, so thanks so much for reading about it.
My small camera broke, and I didn't want to bring my D-SLR out, so I have to wait on friends to post photos. I do have a few photobooth photos though, so here you go!
*edit- Robyn just posted some, so here they are, and I'll add more as they go up! :)
I should also add that in most of these my face may look a little "off!" haha. Sarah's dog jumped up into my face and gave me the hugest fat lip. By last night it had gone down a lot but I couldn't smile normally and I do think I look a little weird. But whatever. Had to mention it ;)
three English teachers!
downtown!