Hello blog world! I just woke up from a long nap, which was not the smartest thing to do. Who sleeps from 4pm until 8pm?! Oh, I do. I really am annoyed at myself for doing that, but I guess this will enable me to be a bit productive tonight. After school Hank and I went to get an early dinner and do a small amount of food shopping. I came home, intent on getting some things done around the house, logged into my email on my computer, and proceeded to fall asleep with my laptop on my lap. I must be exhausted!
So I just woke up a bit ago and I'm still in relax mode, and thinking about how quickly this semester has gone by. It's crazy! Next week marks the end, and the half way mark for this school year. There are lots of changes going on in our life right now, with Hank and also with us (all super great, promise). And I will be sure to update you all on these things as time go on! It just seems like this year in particular has been one of the fastest years of my life. It feels like just yesterday I was with Amber and Adie in our hotel room in Tucson, getting ready to go watch Hank and the dudes play a show. One whole year. This year has been a transformative one, but I won't go too far into this, as I'm planning on writing a rather long 2009 post soon. This New Year's Eve though, is one of the first in half a decade that Hank isn't playing a show or on tour. And I am so, so happy about this. We are planning a very quiet, cute little evening. We may spend it at my parents', eating yummy food and watching the ball drop, or we may stay up here, depending on Hank's schedule. Either way, it'll be a cozy night, which sounds great to me. I wrote about this awhile ago, but recently I decided to stop drinking any and all alcohol. I never drank a lot, but I do have a lot of friends I like to go out with, and I usually always have some cocktails or wine when we do that. For me though, drinking isn't good. I never feel my best, my fitness goals always get derailed, and it changes my usual happy-go-lucky attitude into a depressed little rain cloud the week after. I have tons of fun without drinking, so I didn't really see the benefit in continuing to do something that didn't really add anything positive to my life. In the past couple of months I've still gone out to birthday parties and other events, but refrained from alcohol. And I love it! I feel really healthy and happy. So this New Year's will be a non-drinking holiday. Hank is straight edge and has been since he was a teenager, so every New Year's is like that for him.
Tomorrow is glorious Friday and I'm looking forward to a great weekend! Hank and I are planning on baking lots of cookies- shortbread jam thumbprint cookies to name one of my favorites! We also have a little photoshoot on Sunday so we can hopefully capture a good shot for our New Year's cards. I have a few more people to check off our Christmas list too.
Also, my friend Tyler emailed me and asked me (and Hank) to contribute to a zine he is putting out in 2010. The idea behind it is 20 Prescott artists and their top 10 favorites or things that inspire them. Very cool. So here is my list- I added photos to this post, but his zine won't be featuring pictures of each thing. I will be sure to share the zine once it's printed! I know some of these things seem pretty cliche- I mean, who doesn't love Amelie?! hahah. Either way, enjoy! <3
1) my husband Hank - his love and all around amazing-ness inspires me everyday.
2) books. And I mean books in general. The way they look, smell, everything. I like to always be surrounded by them.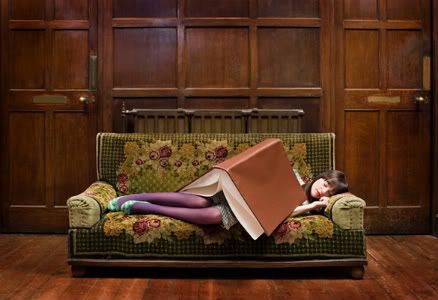 photo from weheartit
3) Sylvia Plath. She is my all-time favorite writer- I can literally get lost for hours in her poetry. I also love her unabridged journals. Check 'em out.
4) tattooed ladies of the early 1900s. We have a wall in our home dedicated to photos of them.
5) Angelique Houtkamp, artist/tattooer. I love everything she creates.
6) the television show "My So-Called Life," circa 1994/95. Angela Chase is one of the coolest ladies to ever grace my television screen.
from weheartit
7) style blogs and style sites (like lookbook.nu, facehunter, etc)
8) our pup Madeline...she's so cute you can't help but be inspired by her.
9) old children's books from the 1930s and 40s, like "Caps for Sale" and "The Little House"
both photos from amazon
10) the French film, "Amelie"
Also-
Do any of you own this car (Toyota Highlander Hybrid)? We are going to upgrade to an SUV and I am loving this one (in black!). I was just curious if anyone knows anyone who drives this, or drives one themselves! I would love some first hand opinions.
Thanks guys!