Name and blog name:
Vanessa Grenier/
veganessa.blogspot.com
Age:
24
Occupation:
Leasing Agent
Age of first tattoo:
18
Favorite tattoo:
AH! I am not really sure! But I would have to say it is my newest addition on my right arm, it is not finished yet but I still love it. It reminds me of my grandmother and veganism, both of which are very important to me. Allyson Bennett at Staring Without Caring in Tucson drew this but when I saw it I knew I just HAD to have it. My grandma's nickname was Bunny so it is very fitting that there is a little bunny crawling on the woman's head. It is kind of hard to tell from the picture but the lady is holding a baby deer and the flowers at the bottom are purple lilies. When I was younger I used to help my grandma plant purple lilies in her garden.
Featured tattoo/location:
Phoenix on my left side of my thigh and my feet tattoo
Artist/shop/location of featured tattoo:
Phoenix by Ed Slocum at Tattoo Artistry. The flower on my foot was done by a guy in Vegas... However I do not remember his name or the shop (whoops!) ha and the ship on my left foot was done by my friend Marc Nava who works at Staring Without Caring.
1) Tell us about your featured tattoos:
The Phoenix-I had wanted this tattoo for a few years but decided I would wait to get it until I knew where I wanted my life to go. It also meant me overcoming a lot of obstacles and as cheesy as it may be, like the phoenix, I rose up from the ashes aka all of life's stresses and started a new life. The flower on my foot is probably the most important one to me. It is a matching tattoo that my younger sister and I have. She is my most favorite person in the world! We got this tattoo together in 2005 and since then we have been the best of friends. She currently is living in Seattle and I miss her to pieces but thanks to this tattoo I will always have a piece of her with me. I decided to get the ship because my younger brother, sister and I love the band Broadway Calls and their song 'Save Our Ship' really hits home for us. My brother may not know it but I am so proud of the person he has become and he really is my anchor. I thought the pieces were best put on the foot because that way it was like my brother and sister would be there with me every step of the way.
2) Do you have any other tattoos?
My first tattoo was my name in Elvish on my lower back and I also have two lilies on my right hip. Both of which are hard to take pictures of by yourself. (ha)

I have a pinup pirate on my left arm, she is an Elvgren girl.


A heart inside a treasure chest with the words "blood is thicker than water" in Latin.
Scrolls on my shoulders-"Tomorrow holds another chance not just to smile but make it real for what its worth I wont give up"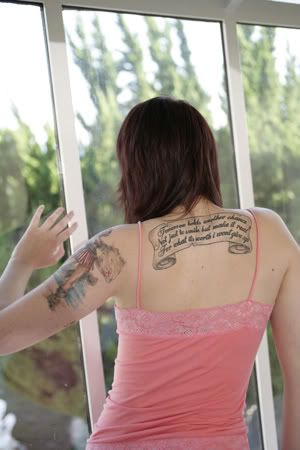 A heart inside a treasure chest with a banner that says blood is thicker than water in latin. I feel like I am going on and on about them so I will let the pictures do the talking.
3) Do you plan on getting more?
Yeah...eventually, whenever I am not broke!
4) How do your family and friends feel about your tattoo(s)?
My friends love my tattoos and as far as family goes... My mom and her family think they are great.My uncles are all bikers and have tattoos and my aunt has tattoos too. My mom wants to get a sunflower on her but she says she is too much of a baby.Both of my sisters are tattooed as well. My dad and his family wish I never started. When my dad found out I went to a tatoo convention for my 18th birthday and got a tattoo he told me I ruined my temple and said at least it was only one. Now fast forward 6 years and 14 tattoos later, he still dislikes them. Whenever my coworkers find out I have tattoos they usually freak out because they never thought I was the "type" to get tattoos, yah know, the booze hound hooker type because that is the kind of woman that gets tattooed! I even had someone say that I was too hardcore for them and too wild because I had too many tattoos, whatever that is supposed to mean.
5) Any advice for those interested in getting tattooed but haven't gotten one yet?
I say wait on the idea a little longer because this is something that will stay with you forever. When I was in 5th grade I used to draw tattoos and say I was going to get them when I turned 18. If I kept with that thought I would have a ton of horse shoes and four leaf clovers.I would also warn you that random people WILL approach you and touch you.Not just men either! I was waiting at school for my next class to start and had some middle aged woman caress my thigh where my loch ness monster is. I will never understand what posses another to to touch someone's tattoo.
Do not worry about what others think about your tattoos, get them for you. Oh and... Do not get tattoos done by your best friends boyfriends cousins friend in their kitchen. It may be cheaper but trust me, it will look a lot better done in a shop.