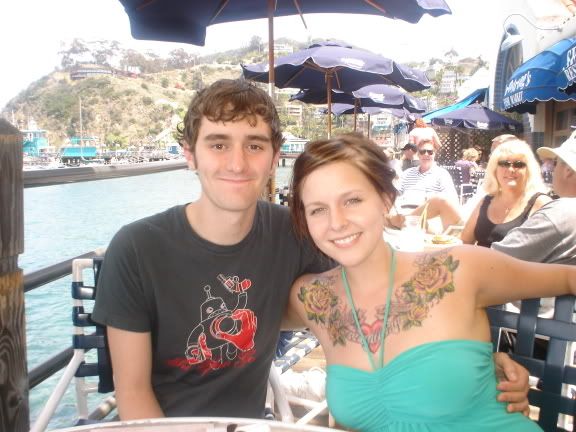 Flashback Friday! Here's Hank and me way back in 2005 (or maybe 2006?). We look so young!
Happy Friday! Well, right now it's actually Wednesday night but I am scheduling this post because I am in San Francisco as you read this. Again? Yes, again. This time it's a super quick trip full of blog-business and I'll be home on Saturday! And I hope whatever you find yourself doing, you have a fun weekend planned too. As for us, once I get back we'll be enjoying spending time with my Aunt Ellen, who is visiting from Vermont. I've written about her quite a bit in this space but I LOVE her and have always had a very special connection with her over the years. I'm just so excited she's going to be in Arizona.
I'm off, and sending you happy wishes for a great weekend.
----------
This
is my new favorite blog. I have yet to leave a comment (I'm a bad reader) but I have been loving every post by the adorable Breanna. And I bet you'll love it too!
I adored Katie's
Leap Day post
.
If you like yoga and you have little ones in your life,
this is for you
.
The best post
I've read in awhile.
A must-read
for any mamas of boys. It's great.
Dexter bowties
. Henry needs one (or all) of these!
And speaking of bows...
this
is the most perfect velvet bow headband I ever did see.
Lemon brownies
...
Want to hear some great music?
Watch this video
.
This wedding
is beautiful. And of course it is...it's the wedding of one of my
very favorite bloggers
.
I can't even believe Michelle and Chad sat next to, pet, and cuddled with
huge, scary tigers
!
I'm enjoying reading all of the 11 Things floating around. Here's
two
more
.
A great gift idea
? A vintage map of a favorite place or traveled city.
Loving these
vintage polaroid wedding invitations
.
No bake peanut butter cookies
. These look SO good.
If we ever have a little girl,
this dress
is pretty much the most perfect dress in the world.
Do you already read Gadchick? If not, you should. Not only is the main (gad)chick a friend of mine (
Diana
!), but they are also a sponsor this month. Yay!
What's your passion?
Stephanie wants to know
.
Happy Friday! xo